These days Google is getting very strict regarding the adsense approval policies in Pakistan. If you are a blogger or you own a website then you must know that how to approve your Google adsense account in Pakistan because you were unable to get it approved then you cannot make money online. Google policies regarding the approval of adsense account has become strict due to the reason that there are so many people who are spamming the internet by creating low quality websites and then trying to make money from them using Google Adsense.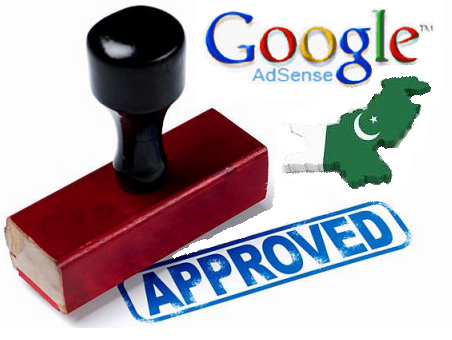 So the accounts of these people get disabled and even some people are involved in selling the Google adsense accounts. Some people get articles from different websites and publish those on their blogs and want to earn money online in Pakistan. These people choose content articles through article directory sites not write on their own.

All these activities create bad impact on Google regarding Google adsense accounts of Pakistan. Besides all these difficulties if you are serious and want to get your account approved soon then there are some tips which will surely help you out. If you want Google to approve your account then you have to strictly follow the terms and conditions of Google and through transparent way you can get success.

Tips to Get Google Adsense Approved in Pakistan
Here You should be well aware about Google adsense because Google Adsense gives an opportunity of earning money honestly anywhere in the world. Adsense is an ad serving programme which is run by Google. If you want to make money you need a website or blog. Google Adsense is the best earning solution and you can earn a good amount from Adsense, many people find it difficult to get approved into Google Adsense account. Many people lose hope just after one attempt. Here is the solution for all the people who are unable to make their adsense account approved by Google.
Tips to Get Google Adsense Approved in Pakistan:
Register your Google adsense account with your original name not with a fake name.

Make your blog consisting of quality based content. Do not count the number of articles in your blogs but focus on the quality of content being written for your blog.

Your blog / website should attract minimum 300 unique visitors every day before applying for approval. Google will not approve a blog with less traffic because it would be useless.

Apply for the approval of one account only once. You approval e-mail will come in sometime. Wait for six months although it seems to be huge time but usually it happens that Google doesnít accept application of third world countries before six months so you have to wait.

Make your blog/ website look professional and use clear themes that attract the visitors. The design of your website should be very simple and easy. Use light and graceful color combination themes in your blog/ website.

Make your blog/ website informative and useful for others. Your Blog should have minimum 10 posts and each post have minimum 400 to 500 words for better results.

Donít be so haste-full but keeping work hard on your website/ blog until six months then you can earn money through your blog/ website.

Do not apply for approval until you have maximum content on your blog including Privacy policy, Copyright Policy, Disclaimer, About Us and Contact Us pages because these are necessary otherwise your application would be rejected.
I assure you that by following these useful tips your Google adsense accounts will be approved very soon.